Supporting you to be mentally healthy in work
If you're off work, worried about losing your job, or just not coping in your role, the Access to Work Mental Health Support Service, funded by the Department for Work and Pensions is here for you.

Whether you are feeling low, anxious, or stressed, we can provide easy-to-access, confidential, one-to-one support, at no cost to you.
We can help you to:
Improve your mental health and wellbeing
With access to nine
months of work-focused
specialist support
Improve your
coping skills
With practical
strategies and
action plans
Improve your
physical health
With reasonable adjustments
and practical advice
for your employer
If you can answer 'yes' to both statements, then our mental health team are here for you:
I'm in permanent or temporary employment (attending work, or on sick leave)

I have a mental health condition (diagnosed or undiagnosed) that has resulted in workplace absence or is causing difficulties to do my job and stay in work.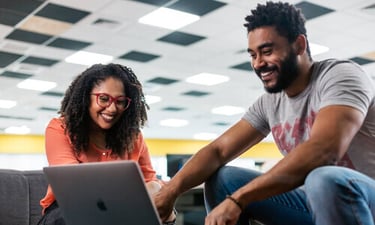 Work with us
If you are an employer, visit our dedicated partner portal to find out how we can help with your recruitment needs.
If you would like to work with us, join our Community Partnership Network by visiting https://www.maximusuk.co.uk/CPN
We've already helped thousands of people
like you
"I can honestly say Elise and the Access to Work Mental Health Support Service saved my life, and I can't thank them enough. I feel very grateful.

"